It was my week to choose the Paula Deen recipe. I chose Chili Chicken Stew which was from her January/February 2009 issue. It can be found
here
. This is what it looks like: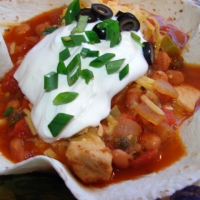 But.....after running around on Sunday putting Christmas decorations away from my home and my parents, plus the temperature getting into the upper 70's, stew just did not sound good at all. So, I opted to make a dessert to eat while watching the Denver/Steeler game. Go Broncs!
I stuck to the Paula Deen chef and made her Simply Delicious Strawberry Cake. Yummy! It was made with a box white cake which made the recipe easy. The hardest part was pureeing the strawberries! I added a little more strawberry to the icing.
The recipe can be found on the Food Network site
here
. You won't be sorry!